I AM A Professional
(Self-paced)
uCertify courses can be delivered in self-paced for IT professionals, mentor-guided for competency based educator, and instructor-led mode for schools and colleges. It begins with pre-assessment, interactive lessons, practice tests, lab and finally the post-assessment. Additionally, you can gauge your performance by test history and performance analytics.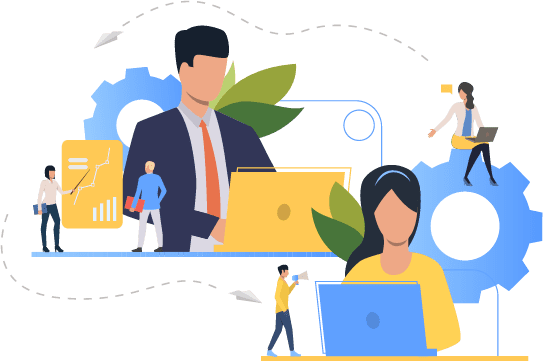 Course Features
---
ADA Compliant
Our courses and lab are JAWS (Job Access with Speech) compliant. We provide enhanced accessibility to students with features such as option to change the font, size, and color of the course content, text-to-speech, interactive videos and how-to-videos with interactive transcripts and voice-overs.
Interactive
Our courses are highly interactive with virtual lab, simulations, and 50+ interactive items. Over 60 interactive items include true/false, multiple choice single or many option(s) correct, drag and drop, create a list & create and order list, hot spot, fill in the blank, performance-based, essay (manually graded), match lists, and image dropdown.
Easily and Efficiently Usable
Our courses can be configured for online, traditional or blended classes. It offers cloud-based learning available anytime, anywhere, and on any device. Once you leave your exercises in the middle, you can start it from there, any time you attempt it again. The course also helps students to learn in the office mode.
Learn all the characteristics of our course to fully utilize them for your preparation and knowledge.
Understand all our course attributes to use them to grasp the content in a better way.
Chapters
uCertify platform supports 50+ interactive activities, connect the idea, or try it yourself lab activities embedded throughout its course. These interactive activities keep learners engaged and make learning fun.
Each lesson comes with flashcards & quizzes. There is no limit to the number of times learners can attempt these. Flashcards help master the key concepts. Glossary defines the key terms.
Lab
uCertify Lab are virtual environments where students learn by doing. They encourage exploration and experimentation in a risk-free environment which results in better learning for students. uCertify LiveLab is a virtual machine that replaces expensive physical lab and is usually autograded.
Test Prep & Practice Questions
The tests closely follow the exam objectives and are designed to simulate real exam conditions. Each course has a number of test sets consisting of hundreds of items to ensure that learners are prepared for the certification exam.